Mei Group at Purdue University
We are a dynamic and innovative research group, led by Prof. Jianguo Mei in the Department of Chemistry at Purdue University. Our group focuses on cutting-edge research in organic synthesis, polymer chemistry, measurement science, and printed electronics. Our pursuit of excellence is matched by our commitment to providing an open, supportive, and stimulating environment for students to develop their careers. As a team, we believe in fostering an inclusive community where creativity, curiosity, and critical thinking thrive. If you are interested in joining us, please do not hesitate to reach out to the PI or any of our group members for further information.
Welcome to Mei Group!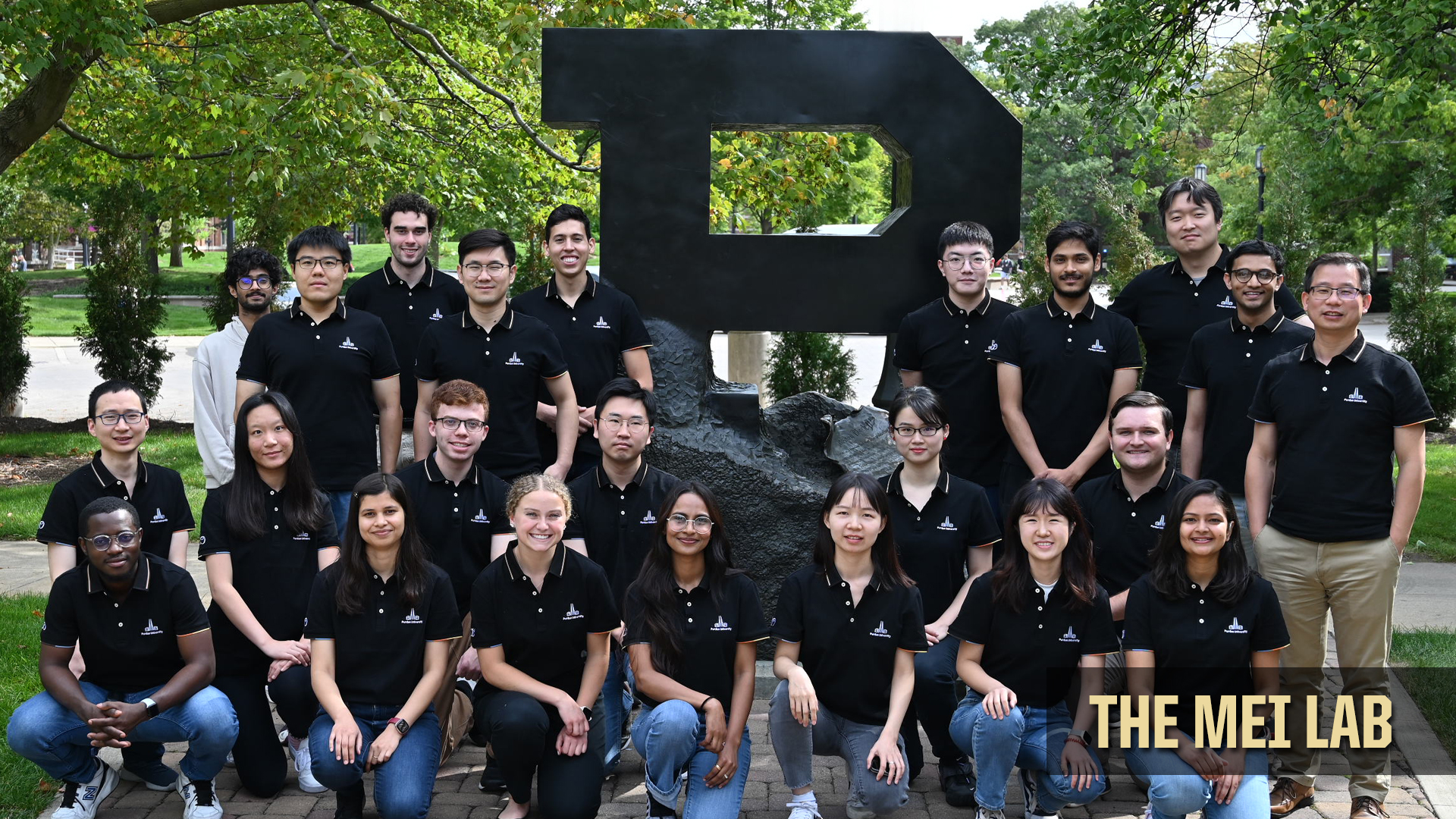 Latest News and Events: Tweets by Jianguo_Mei
Feb 7, 2023, 

Our work on N-doped organic transparent conductor (n-PBDF) is published in

 

JACS

.

Contracts to Zhifan, Jinhyo, and all authors. It has the highest conductor among organic conductors. At the same time, it is air, moisture, and thermally resilient. 
Aug, 2022, We are part of the newly funded DOE EFRC center - the Center for Soft PhotoElectroChemical Systems (SPECS). SPECS' mission is to understand the factors controlling charge and matter transport processes that underpin emerging energy conversion (i.e. catalysis) and energy storage technologies across spatiotemporal scales in highly scalable, durable π-conjugated polymer materials. 

May, 2022,

Dr.

Xuefei Li

will start her independent career at Georgia State University.

April, 2022, Dung Tran and Xuyi Luo graduated from the group. Dung went to Micron Technology and Xuyi continued to work with Prof. Letian Dou on sustanability and polymer upcycling.

Feb 22, 2022, we took a group photo at 2:22 pm, on Tuesday, Feb 22, 2022. 

May 12, 2021, 

John won the 

2021 Astronaut Scholar fellowship

. Astronaut Scholarships are awarded to students in their junior and senior year of college studying science, technology, engineering, or mathematics with the intent to pursue research or advance their field upon completion of their final degree. Astronaut Scholars are among the best and brightest minds in STEM who show initiative, creativity, and excellence in their chosen field.
May 11, 2021, Our former graduate student Dr. Aristide Gumyusenge accepted a faculty position at MIT. He will join the Department of Materials Science and Engineering as an Assistant Professor in the Spring of 2022.

Feb 18, 2021, We are part of a MURI project to team up with computational chemists to understand degradation of organic materials.

Mar 4th, 2020, Dr. Mei has been named a 2020 ACS Polymeric Materials: Science and Engineering (PMSE) Young Investigator.

Mar 1st, 2020, Saadia is selected as 2020 Beckman Institute Postdoctoral Fellow.

Feb 18, 2020, Jongsu left for a faculty position at Sunchon National University in Korea.

Sep 3, 2019, Natalie is featured in Purdue News! Kadlubowski, Tesmer earn nationally prestigious Goldwater Scholarships

June 17, 2019, Aristide's paper is selected as the Editor Choice and the Cover. Isoindigo-Based Binary Polymer Blends for Solution-Processing of Semiconducting Nanofiber Networks, https://doi.org/10.1021/acsapm.9b00321

April 26, 2019, Natalie  is recognized as a 2019 Goldwater Scholar.

April 24, 2019, Aristide won MRS Graduate Student Gold Award and the Arthur Nowick Graduate Student Award.

April 18, 2019, Aristide won H. C. Brown Graduate Student Award and delivered the Brown Lecture. 

Nov 6, 2018, our work on high temperature organic semiconductors appears in Science Magazine.

June 26, 2018, Xuyi's first paper is accepted as a VIP, which will appear in the thematic issue of Organic Materials in Asian Journal of Organic Chemistry as an invited article. 

April, 2018, all five undergraduate students, Vani, Juncheng, Hongyi, Kenny and Xurui will attend graduate schools this Fall.

April 5, 2018, Natalie is recognized with a SURF fellowship.

Feb 10, 2018, Yan is leaving us after three and a half year in the group. He is taking a faculty position at Fudan University. Best wishes to him!